Michelin Tires in Northgate, Ohio
Northgate Tire is proud to offer Michelin tires, known for high durability, fuel efficiency, and reliable braking.
Michelin Passenger tires are developed to deliver all-season performance on any road and high-mileage.
Michelin Ultra-High Performance Sport Tires & Touring tires are designed for the track and open road.
Michelin Luxury Touring tires combine the superb handling of Performance tires with the quiet, comfortable drive of Passenger tires.
Michelin Light Truck & SUV tires master rugged off-road capabilities, as well as heavy-duty commercial applications.
Michelin's Zero Pressure tires are specially designed to support your car after a loss of air pressure, saving drivers from tire changes in hazardous places.
Call or visit your Northgate Tire location to learn more about Michelin tires.
Featured Tire: Michelin Symmetry®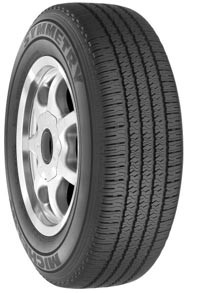 In the Michelin Symmetry, value meets unsurpassed comfort. Ideal for cars and minivans, the Michelin Symmetry is developed with Michelin's Comfort Control Technology — a computer optimized design strategy to greatly reduce vibrations and road noise. Its all-weather tread pattern includes wide center grooves for quick water evacuation and variable-width sipes for exceptional traction in any condition.
The Michelin Symmetry's EnergySaver Construction delivers excellent fuel efficiency by requiring less effort from your engine. The end result is a smooth ride, keeping you and your family safe year-round, in all types of weather.